Client: TAI
Solution: Facebook Custom Audience

Background:
The TAI sales process starts with lead generation from its website and paid advertising campaigns. Over the years, the company had accumulated a list of emails from prospects whom did not become customers. The company needed an efficient, effective and positive way to use these old leads.
What We Did:
The prospect email list was used to create a Facebook Custom Audience and we ran a Facebook ad campaign.
Results:
From existing paid campaigns, the average cost per lead is $20. This new Facebook campaign targeted to the Custom Audience generated leads under $5. This comes to a cost savings of over 400%. The customer acquisition cost from this campaign were the lowest of any paid advertising campaign in company history.
Unique Facebook Features:
With Facebook, you can manage and track details of the entire sales funnel. TAI had cost for any Facebook conversion at .25 cents.  You can see the other steps in the funnel ( site visit,  2nd page visit and becoming a lead).
Client: Old Prague Market
Solution: Full Service SEO, SEM, Email Marketing, Ecommerce Site Development
We  managed all online advertising, email marketing, website design and ecommerce operations for this online candle store. We helped client create their online ecommerce store and drive traffic, conversions and foster a strong loyal customer base via email marketing / online customer events. A few highlights:
Google Adwords PPC campaign resulting in a 6.72% conversion rate and $5.20 cost per order.
Increased sales by an online average of 25% per year.
Produced and promoted an online webcast event which lead to a single monthly record in sales, $20K +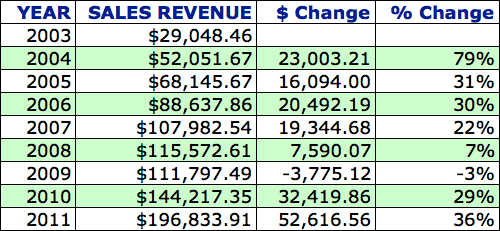 Client: College Buddies
Solution: SEO, Affiliate Marketing, Dynamic PHP/MySQL Website Development
We turned a 200K sports apparel product data feed from Fanatics's affiliate marketing program into a custom designed MySQL/PHP website, with unique SEO content, search and display functionality. Starting from zero, WIC grew monthly sales revenue from $3,131 to $11,248. All traffic was generated by organic SEO.

Client: Tech Forums
Solution: Dynamic PHP/MySQL Website Development, Affiliate Marketing, Drive Community Membership
Tech Forums is a large Technology Online Community that WIC operated from 2003 – 2011. Organic traffic hit 16,000 daily unique visitors from a starting point of 3,000. A highlight was when WIC created a single PHP/MySQL script that generated over 37,000 pages indexed in Google. This script pulled data from a NewEgg affiliate product data feed.