Your Company's Internet Presence Problem…
---
[rev_slider internet-presence ]
Your online business visibility is based on your local digital presence. A data-rich business profile contains images, product & service descriptions, reviews, hours, calendar events, restaurant menus, staff bios, and other details. Most business listing only contains name, address, phone, and maybe a website URL.
Logically, the more valuable content you add to your local listing business profile on popular websites (like Yelp & Facebook), apps (like CityMaps & Mapquest), search engines (like Bing & Yahoo), or directory listing sites (like Superpages & Whitepages), the more traffic, clicks, and customers your business will attract.
What does your Internet Presence look like now? Get the answer in 10 seconds with our Free Online Business Listing Report.
The Solution: Use Our Service To Optimize, Expand, and Manage Your Internet Presence
We can provide complete, accurate, and rich profile listings on over 60 websites. You can differentiate your business and stand out from the competition.
See pricing or what quick video to see how it works –>
The 1 minute video will show you the problem and solution.
Our Internet Presence solution takes care of the items below.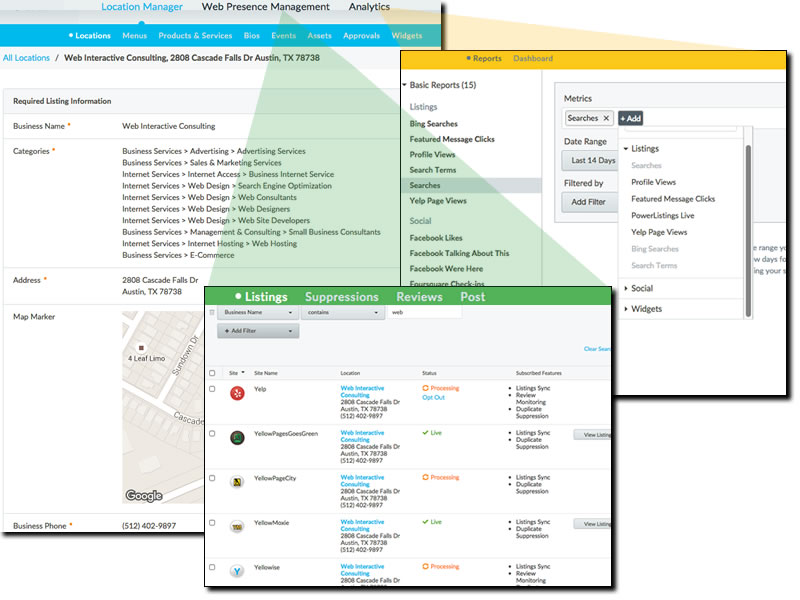 ---
Control Your Business Data
WHAT DATA?
Your company name, address, phone (NAP) and descriptions, hours, website URL, email, category listings, logo, etc. And ENHANCED CONTENT such as: photos, videos, food menus, bios, calendar events, product or service descriptions, and more!
Save Time, Energy, and Money by controlling your business information, not hoping or waiting until it gets updated.
What does your existing web presence look like right now?
Be Found – Get Customers
WHERE LISTED?
Over 60+ websites (or publishers) have a paid relationship to display our client's business information. This is how we are guaranteed quickly updated information (on most sites its instant or within 1-3 days) and extra benefits to you. See complete Network of Websites details.
---


---
Stand Out (from the pack)
Your customers are out on the Internet looking for you. They use different sites, search engines, apps and local directory sites every day. If your business listing profile has wrong information, can't be found, or looks bad, you lose sales! Click to Fix That this Week!
*** EXTRA BENEFITS ***
Clickable Featured Message
Social Media & Review Monitoring
Duplicate Listing Tool
Positive SEO Effects
Analytics, Traffic, & Performance Reporting
---
What is the guaranteed profile listings?
Your business listing will have accurate details, such as name, address, phone number, category names, website URL, etc. After the setup process, all information can be updated in near real time across the network of publisher sites.
Is the Web Presence Report really free?
Yes and its instant too! The scan reports the findings on all 60 plus publisher websites. This is a quick way to measure your online business presence.
Why is a Digital Presence hard to maintain or update?
The short answer is the "eco-system" for business listing information is chaos. There are many spiders, bots, aggregators, and companies trying to compile their own big list of business data. Add to that mess new and old business data plus (human and computer) errors. There just isn't a single source of data online. All this incorrect data cost you money in terms of lost customers.
Why should I use your Web Presence Management system?
Simple. We partnered with a company whose technology platform helps solve a problem managing local marketing and local search for businesses. This platform has direct access, relationships, and offers you control of your data. Then extra, useful, and beneficial features were added to create the perfect management system.
Unique Features:
Control The Data (not submit it)
Near Real Time Updates (not weeks or months)
Duplicate Listing Solution
1 Place To Manage All