Simple Start To A Profitable Marketing Funnel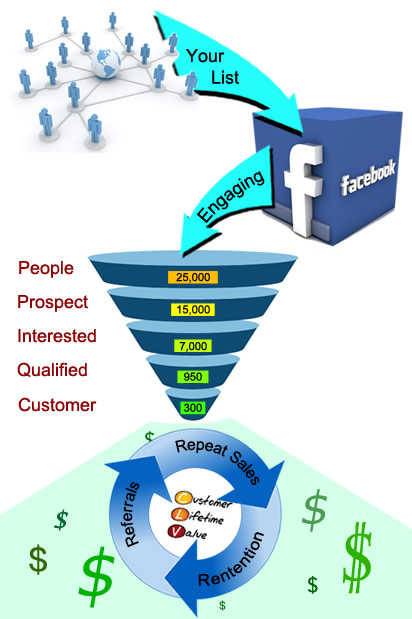 With any prospect list, you will lower your Customer Acquisition Cost (CAC) by using Facebook to improve conversion rates on your marketing funnel. This process can generate a highly profitable ROI, especially when you consider the Customer Lifetime Value (CLV).Larry Kolinek
Lets Explain or Define Some Terms:
Prospect List – Any list of emails that you collect, such as leads or customers. You can even use tracking pixels to create a Facebook audience from your own website.
Facebook – Largest social media network that allows you to upload custom audiences so you know who will see your content (IE. your ads). Facebook provides the best advertising network in terms of its audience targeting features. Nothing else is better to allow you to dial-in and really target exactly who you want to advertise to.
Sales / Marketing Funnel – The steps or process in which your audience goes through before they become a customer. The steps start out wide and general, then go to specific actions all the way to becoming a customer (and beyond).
Conversion Rates – By testing, tracking and tweaking your content, you will improve the results of your campaign. Numbers will tell you what works better and over time, you keep getting better results.
Customer Acquisition Cost (CAC) –  How much do you spend to aquire each customer? Using Facebook as a starting point for engagement will lower the cost of getting customers.
Customer Lifetime Value (CLV) – One sale per customer is great, but what is the value of all sales from one customer? Have you thought about the value of repeat buyers or customer who refer other customers? You need to have a strategy to benefits from this long term value.