Online Web Presence Management Pricing Plans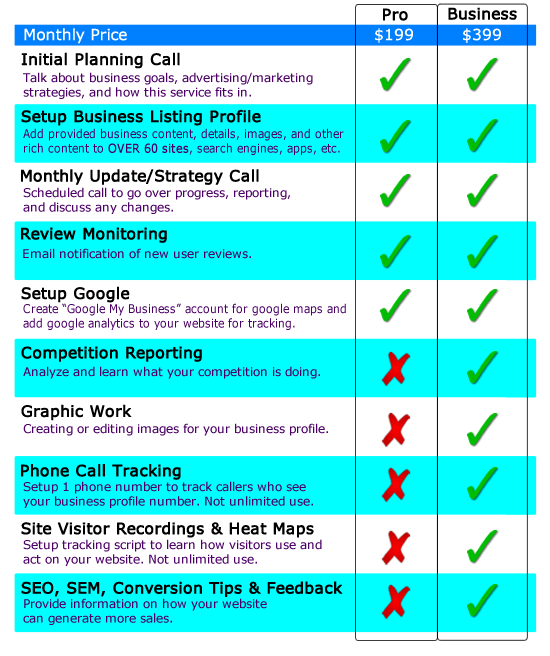 For any questions regarding our pricing plans detailed above, don't hesitate to call 512-402-9897. There is a minimum of 2 months for either plan. After that, there is no contract. Ask for annual discounts. You can upgrade or downgrade at end of each month. Pro Plan is $199 a month. Business Plan is $399 a month. Click To Start Today  !
---
---
Internet Presence Management Questions
Over 60 sites included,  listed here.
Basic content: name, address, phone, business description, categories, hours, email, website, payment methods, social URL (Facebook, twitter, foursquare) photos, and videos.
Enhanced Content*: Products & Services, Calendar Events, Staff Bios, and Food Menus.
Clickable Featured Message*
Duplication Tool & Monitoring
User Review notification on these sites: Brownbook.net, ChamberofCommerce.com, Citysearch, CitySquares, EZlocal, Facebook, Foursquare, Google Reviews, LocalDabase, MerchantCircle, ShowMeLocal, Superpages, Topix, USCity.net, Where To?, Yahoo!, Yellowwise, Yelp
Analytics and Reporting with these reports: featured message clicks, profile views, search views, search terms, yelp page views, facebook stats, and view count of event calendar, menu, posts, product & services, and staff bios.
* Not available on every website
After the 1st month, reports can be automated to be emailed every 2 weeks. We will go over and discuss report during the monthly call. Review monitoring has 3 settings: instant, weekly, monthly.
This is about making sure your logo and photos are properly setup, fit, and look good on your business listing pages. We can also create photos for you if need be.
We use a tool to understand your web and mobile site visitors. Looking at heat maps and watching screen recordings of how visitors interact with your website. It is like watching over the shoulder of a person on your website. You learn a lot from watching. We will set up and configure this unique type of website analytics. Some features/overages could carry an extra cost, but for most companies, what is included will be more than enough. The offer is not for an unlimited use of these features.
This is another way to track the performance of your Internet Presence Management that is controlled by our system. We will add a local tracking number to your business profile listings. This way, you can know that these calls saw your new profiles. Some overage cost maybe apply. This is not an offer for unlimited tracking usage.
This is our way of helping you gain the most traffic, customers and sales. We will provide our thoughs process and what we would do if we where your company. Also, we will work with you to meet your goals.