Learn How To Be Found Using Local Search (SEO)
What Is Local Search ("Local SEO") ?
It's when consumers are looking online for products or services from their current physical location.
These searches:
Occur on all devices, but mobile phone activity is the most;
Lead to online or offline purchases;
Provide an easier way gain new customers (unless they find your competition first).
Why Is Local Search Important To A Business?
There are 2 main reasons: increasing traffic and sales while strengthening your brand, authority.
Eyeballs: Your "Internet Presence" should be seen everywhere and as often as it can be. Consumers use many different devices and search engines, directory sites, apps, and business review sites to find local companies. As your online presence grows, so does your authority and sales.
Ranking: Increased website ranking occurs when you have more NAP listings (or citations) for your business. A citation is the "Name, Address, Phone or NAP" listing of your company. Higher ranking occurs when you have more quality citations. Popular sites provide a more authoritative citation link.
See Free Report On Your NAPs
The more NAP listings your business has, the more authority it will gain.

The short, simple answer is because you will make more money by acquiring more customers. Customers want to use local businesses. You company needs to be found when customers are looking for you.
The long, complex answer is the concept of "geotargeting". Local SEO is targeting prospects, which creates higher conversions from those customers.
Can You Show Me An Example Of How Local Search Works?
Here are 3 types of local searches that customers perform every day. Try it, search on:
mexican food
mexican food austin tx
mexican food near me
FYI: Google knows certain searches (with or without a location term) are always expecting to find a local business.
The Maps section appears for each 3 searches. Google is showing businesses that are close to you. Local search is intended to show customers local businesses that are in a close proximity to your location.
Click to see how different local searches tend to show the same results.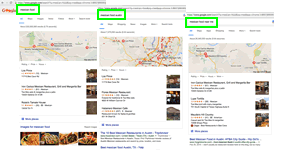 Think of your web presence as a 2nd store location or an extension of your business. When you optimize for local search (Local SEO, search engine optimization), you make it easier for a customer to find your business and purchase your product or service. Local SEO helps a business expand the advertising, marketing reach, and visibility on the Internet.
How does a business implement or start local search engine optimization?
Most business owners know they need local SEO, but do not understand how to get it. The answer is easy, give Google and local customers what they want:
Your business name, address and phone
Provide great content to make a decision (photos, descriptions, reviews, etc.)
Make sure information is up-to-date, accurate.
When a business has more NAP listings, it creates more visibility, authority, and thus a stronger web presence.
Let Us Do It For You Pricing
Web Interactive Consulting's Web Presence Management service provides:
Guaranteed listings on over 60 popular sites;
Rich content to create a persuasive business profile;
Real time control of data, so its always accurate
View Local SEO Cheat Sheet